Are you on track?
Keep tabs on how many observations have been completed for each teacher with our new Observation Target Progress Insight.
An observation target makes clear the number of observations a particular teacher should have over the course of an academic year. If you're in NYC, this will be Option 1, 2, or 3 as agreed at the Initial Planning Conference. If you're outside NYC, you might set targets for weekly, bi-weekly, or monthly observations of staff. However your school manages observation targets, our new Insight allows you to do the following:
Review teacher observation targets.
Track how many observations have, and have not, been conducted for each teacher.
View the status and date of all observations in the cycle.
To check out this new Insight, click on the School tab on the left-hand menu, then select the green Insights icon (it's a lightbulb!).

Choose the last option: "Observation Target Progress."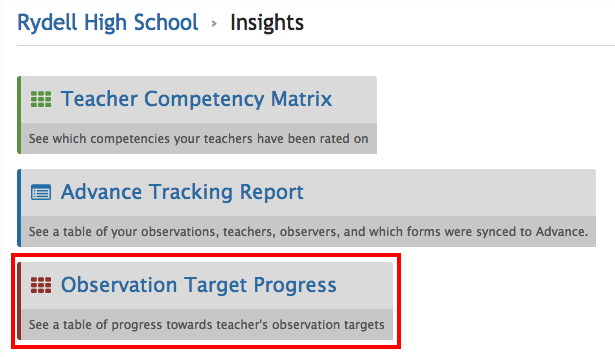 A little confused as to what Observation Targets are? Or perhaps you're receiving an error message that looks like this:

The engagement team is here to help! Check out this quick screencast.
Remember: all TeachBoost screencasts are password protected. To locate the password, log on to TeachBoost and click the "New Stuff" button.