The teacher observation process is one of the core pieces of TeachBoost, and through your feedback we've been able to update some of the workflow to make it very clear where each observation is in the process of ultimately delivering it to the teacher. These changes allow you to control each part of the process, from notifying your principal (or other stakeholders) to releasing the observation and notifying the teacher.
Here are a few of the changes explained in detail:
Simpler options for saving and leaving observations.

No longer is the process to complete an observation confusing. While working on an observation, you'll have two options: Leave, or Save. Click 'save' to ensure everything on the form is saved (though we save it automatically as you go!), and when you're done editing the observation for this session, simply click 'Leave'. 'Leave' will take you back to the summary view of everything you've done so far, including the new observation workflow detailed next. Completing the observation is now done through the workflow.
Observation Workflow View
The observation workflow is the 'command center' for an observation. It shows you exactly what you've done so far, and allows you to choose when you want to notify key stakeholders during the process. If the observation is in progress, you can either go back to edit the form, or complete it through the first section of the workflow.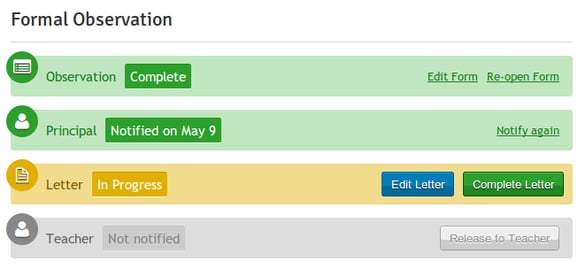 Next, notify your principal when you're ready; no longer will an email go out every time you complete the observation, which will save your inbox. Next, start and complete the letter for file if necessary from the third section of the workflow. Lastly, release and notify the teacher when you're finished and ready for them to receive their feedback.
What's next?
We've been hard at work on an exciting new observation tool specifically geared towards low inference observations. We'll be rolling it out over the next few weeks and look forward to your feedback! If you'd like early access, please send us a note atsupport@teachboost.com and let us know you'd like to try out the new Low Inference Tool.